Brand
Communication
Strategy
The Miley Cyrus guide to brand reinvention
See how continually evolving your brand is the key to maintaining relevance, with support from a pop icon who's reinvented herself time and again.
Whether it's your personal branding or that of a multinational corporation, brand is the impression that people remember, buy into and come back for. While consistency is important, even a rock-solid brand will weather with time and lose impact or resonance. That's why it's crucial to keep things fresh, evolving your brand performance as you grow.
To demonstrate this point, we're going to get some unexpected help – from Miley Cyrus.
Phase 1 – The Magic of Miley
Cyrus first came to fame as Hannah Montana, the girl leading a double life as an average high school student and international singing sensation.
Under the Montana moniker, Miley became a star on both screen and sound-waves, releasing four albums, four TV seasons and a concert film. The "Magic of Disney" brush painted its brand on her thick.
If she didn't play the personal branding game smart, the blessing of young stardom threatened to become a curse in womanhood. She'd need to work hard to get away from her sunshine 'n' rainbows persona.
Branding Lessons 
+ Using another brand's prestige, popularity or influence can be a smart move to gain exposure.
+ But be careful! Who you're associated with speaks volumes about you.
Phase 2 – Growing Pains
"Party in the USA" came out when I was 18. And it's still a guilty pleasure that I'll freely admit to today. This was Miley's biggest hit of her teenage years, and a bridge from the fluffy innocence of her child-star days to some wildly controversial branding to come.
By pairing a new look with edgier, monotone art direction, we witnessed a shift in branding away from the brightness and naivety we'd seen before.
In the photography from her albums of the period, Miley also appeared for the first time without a beaming smile.
A few spicy lyrics and steamy videos caused a stir. The media circled. Whispers of rebellion could be felt. But the real bombshell was yet to arrive…
Branding Lessons
+ Much like teen-hood, it's important to test boundaries as a brand. With a little care, there's no harm in trying things out to see what works. 
+ We live in the age of data. Keep up to date with the changing world and use it to your advantage to stay relevant.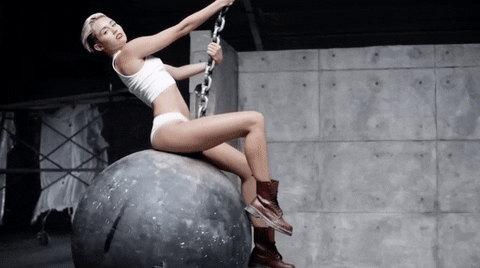 Phase 3 – Enter the Disruptor
Hold onto your hats, cowboys and cowgirls. There's a fresh Miley on the block. We're talking the booty twerkin', hammer lickin', middle finger flickin' Miley.
To coincide with the release of the album "Bangerz", her whole brand was overhauled, from image to persona. This was a dramatic and highly controversial transformation – incorporating an attitude brazenly sexual & provocative.
Miley made it clear that she wasn't messing around; and she wasn't going to apologise for anything either. The public were left either scratching their heads or shaking them. Yet no one could look away.
Was this disruptive behaviour purely for the sake of disruption? Or was it a true reflection of herself and where her brand needed to be? Either way, Miley got cut-through, proof of how effective her radical rebrand was.
She'd changed, and whether people appreciated that or not, everyone was talking about her.
Branding Lessons
+ Be bold! You're not going to be disruptive by being predictable. So, find a position and own it.
+ You can adjust your message with your audience – or even your brand as a whole – but it has to feel authentic.
Phase 4 – Weird & Wonderful
With Miley's next release, we see another evolution in her branding, though perhaps one less confronting than the last. The album cover features Miley's face in close-up, smeared with glittery transparent ooze, and the title "Miley Cyrus and her Dead Petz", with a kind of twisted carnival ring to it.
Sonically the record was psychedelic, experimental and as daring as her previous project. That being said, the album seemed markedly more personal, emotional and honest.
Her new brand had a definite touch of the free and eccentric. Miley began appearing in vibrant, outlandish outfits. This visual aesthetic seemed to marry the bravery of her former rebrand with the bubbly whimsy of her child-star self.
With her latest brand metamorphosis, Miley had broken the chains and was now free to evolve or (revolve?) and go full circle.
Branding Lessons
+ Align all your communications across all contexts.
+ Be real – maybe even vulnerable. Consumers respect brands that are transparent, not afraid to take risks and can laugh at themselves.
Phase 5 – going full circle
After a wild ride and a poker hand of rebrands, Miley was evolving yet again. In many ways, however, her new brand would be a return, framed by an album entitled "Younger Now".
She was getting in touch with herself, through musical nods to her heritage. Miley embraced her roots – in a work imbued with a country sound and Nashville twang – as the daughter of the guy with the achy, breaky heart and the goddaughter of Dolly Parton.
The retro artwork and publicity shots for the album captured her development whilst tying back to her early days. We were met with a bright colour palate and a return to wide, open mouthed smiles straight out of Hannah Montana.
This was wholesome Miley once again, yet a sophisticated version, a brand both innocent and mature. This was Miley just being Miley.
Branding Lessons
+ Brand is like your anchor. You can go in some pretty outrageous directions, as long as you keep coming back to your values, identity and essence.
+ Trends and styles go in cycles. A retrospective evolution of your brand could be an edgier move than something more modern or outlandish.
The Moral of the Story
Each of Miley's brand evolutions have felt authentic in their own, unique way. Although her rebranding might have seemed dramatic at times, when viewed in hindsight and in context, the whole story makes a lot of sense.
Looking at Miley's journey, what we've learned is that by rebranding at various points over time, you're able to retain relevance and show nuance.
Through brand, Miley (unlike many child-stars) was able to maintain and even grow her audience far beyond her original fanbase – with a net worth of $160 million USD to show for it.
—
You don't always have to know where you're going to end up, but your vision and purpose should always drive your development. To us at uberbrand, that's what effective brand management looks like.
Is your brand in need of a refresh?  Contact us to find out what you can do.